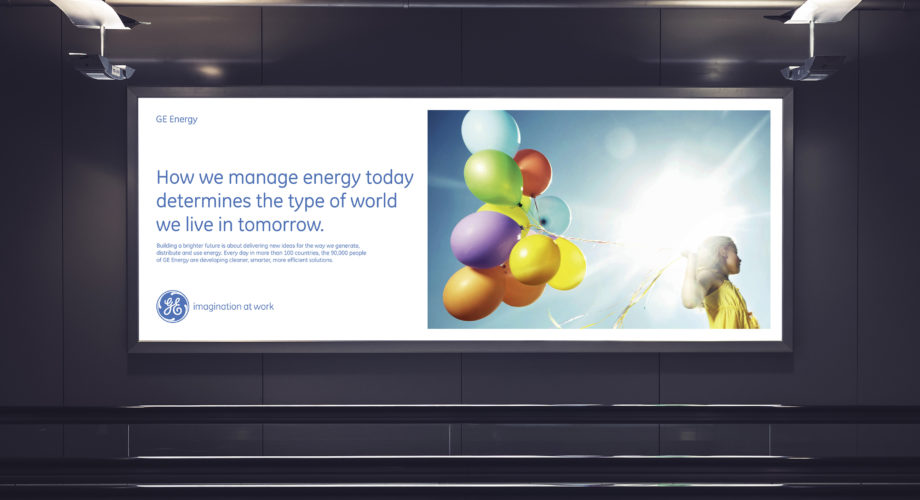 Emotion – it gets you there quicker
Find out how human stories and emotional messaging changed the face of one of the world's biggest corporations.
GE Energy faced a competitive global market for their products and services. Their communication material lacked differentiation and a sense of authority (as a global leader in this field). They knew they had to do something to change but being 'different' within the context of the GE brand was proving a challenge.
As part of our insight we set about interviewing a number of stakeholders from across the corporation to get their perspective on what GE Energy was about and what their division did for its customers.
From Kansas to Florida to New York to London one core theme began to emerge. While GE might make the smallest (and the biggest) components that go into energy production, the end product of power is something that has a massive impact on humankind – from keeping premature babies warm in hospitals through to providing the power to make Budweiser beer. It was a rich, emotive territory that GE could own and a space that no one else was currently occupying.
With the brief now defined, we created a series of internal and external messaging platforms that would help us develop concepts for the division as a whole and at a product level.
It's important to bear in mind that GE had been very functional and rational in its communication thus far (pictures of big bits of machinery ($billion-dollar generators etc.) or highly technical descriptions of software solutions). While there's a time and a place for this type of material there was nothing creating a sense of impact about what this world leader was doing to change the agenda on Energy production.
Our initial work was ready for presentation and it was the most surprising 24 hours in New York that proved to us we were onto something with our thinking. We arrived into New York, took a train to Schenectady in upstate New York where the GE HQ is located. A building so entrenched in American corporate history that it is the only building/complex in the USA to have its own Zip code (12345). We presented to a very senior team at GE and there was the longest period of silence I think we've ever heard in a Boardroom…
We were never really sure if they loved or hated the work but what we did know is that our work had provoked a reaction and that had to be a good thing. The work went ahead and it was first seen at Geneva airport at the beginning of The World Economic Forum in Davos. It was then rolled out globally to be used internally and externally. Our work even made its way to the doors of BBDO in New York (GE's agency of record at that time) and they went on to make the GE Budweiser Super Bowl ad based on telling human stories. They still couldn't resist putting the product first in the ad but it moved them on massively from where they were.
The lessons to be learnt from this are simple. Create impact and relevance in your communication (remembering that impact can come in many forms). Be truthful and see if you can 'move' people emotionally. They'll remember what you're trying to tell them, and it will reach a different part of their brain.
Words by James Acton