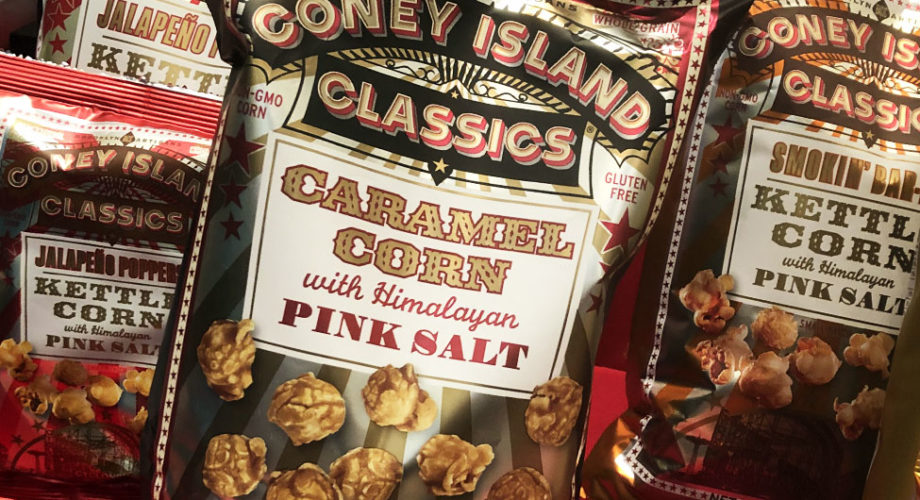 This is the tenth year that The Brand Nursery has attended The Fancy Food Show 2019 – the annual showcase in New York for many of the world's most interesting and innovative food brands and manufacturers.
Once again we were on the lookout for those emerging new trends that might point the way towards new flavours, product formats and sectors that will shape the way the food retail market develops over the next few years.
At the Fancy Food Show 2019 we were immediately struck by the number of trends we've previously witnessed as promising new buds that are now flourishing – quinoa, hemp, seaweed, coconut and cauliflower as core ingredients, the re-emergence of peanut butter and honey, and, of course, the increasing focus on plant-based products as an alternative to meat and dairy. All were much in evidence across the floors of the Show.
But 2019 also saw the emergence of fresher potential new trends. Here are our Top Ten;
1. Pickles
Pickles, and the sour flavours they deliver are definitely enjoying something of a revival. There were plenty of pickle jars in evidence across the Fancy Food Show 2019 all battling for innovative ways to differentiate themselves.
Randy's Pickles use quirky descriptors – 'Sideburns' and 'Mustache On Fire' – to bring their pickle range to life. Bruce Julian was pickling more unusual ingredients like okra and brussels sprouts in his 'Sassy' range
Georgia's Pickled Pink range includes sweet ingredients, such as watermelon and peaches, whilst Brooklyn Whatever's range is branded 'Shpickles' to give it that uniquely Brooklyn character.
Chicago's Suckerpunch offered a range of 'Pickle Juice Shots' as part of their cocktail mixer range, although the product was also offered in its 'raw' form as a great hang-over cure – two birds with one stone!
2. Good Fats
Helped by the growing focus on the Keto diet, fat is back! Brands like Love Good Fats and Fat Snax were founded by triathletes and keto followers who recognise the need to keep body energy levels topped up, and are consequently actively promoting the benefits of fat in the human diet. Reducing sugar but maintaining other 'better for you' fats sourced in nuts, cocoa and even butter provide energy and feed both body and brain.
As the owner of the Fat Bombs brand proclaimed "sugar and carbs are the enemy, fat is your friend now", as exemplified in his range of cheesecake and cookie dough sweet snacks.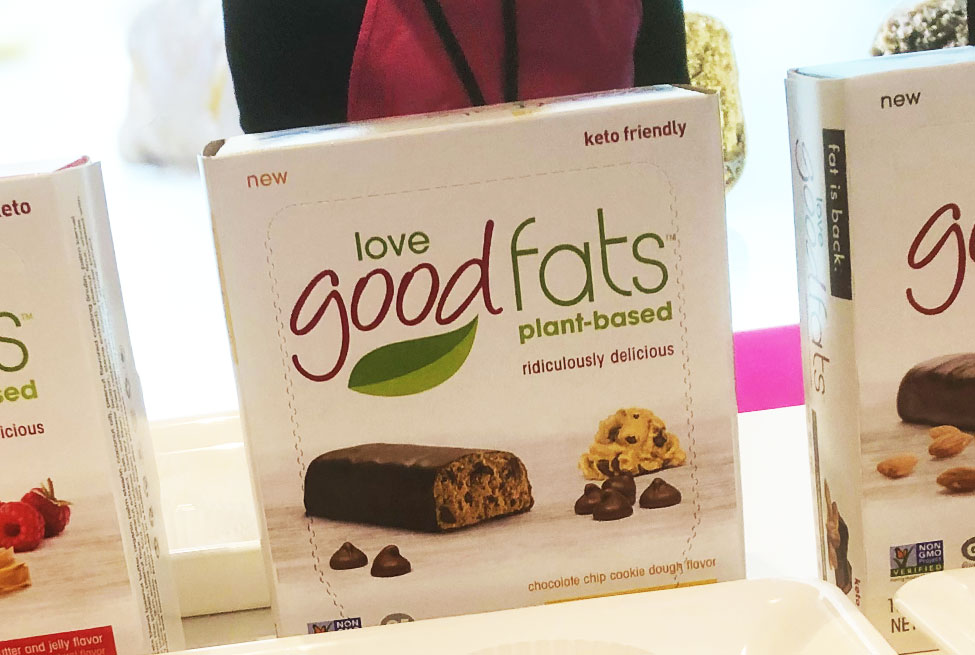 3. Bone Broth
Bone broth has been emerging for a little while now, but this trend really seems to have really flourished this year at the Fancy Food Show 2019 – both as a dedicated product format, but also as a key ingredient in other products, again echoing the Keto diet principles. Aneto from Spain have a range of broths made using only natural ingredients, whilst LonoLife has a range of bone broth sachets to enable their nutrition to be enjoyed on the move.
Galassi Foods have created their 'Sticks & Bones' branded range that uses the nutritional benefits of bone broth to "give a nod to our past while providing a modern, delicious, and satisfying way to fuel your family with vital nutrients and amino acids" via a range of pasta sauces.
4. For The Common Good
We were struck this year by food manufacturers that don't just nod in passing to being more responsible or charitable citizens, but who are wholeheartedly embracing this as the ethos for their business.
Sindyanna of Galilee is " a unique non-profit organization led by a team of Arab and Jewish women working to create social change from the ground up" – their range of olive oils also help their local farming communities and are branded as 'Peaceful', 'Hopeful' and 'Positive'
The Chocolate Dream is "a 15-point long-term vision made up of goals and principles closely aligned with the UN's program for Sustainable Development" that seeks to deliver products that will benefit local Columbian farmers, communities and society.
Flax 4 Life has a range of flax-based products that offer dietary benefits to those with autism, and the company also supports autism projects and initiatives via the Autism Hope Alliance.
5. Everyday Plus
Another notable trend this year is the presence of relatively familiar, mainstream food products that have been given a little 'twist' to make them more interesting, to deliver better taste, or to make them more fit for today's consumer.
Goodpop has 'cleaned up' traditional favourite ice lollies and pops by just using clean and responsibly-sourced ingredients.
Coney Island Classic's popcorn range now contains Himalayan Pink Salt (see below for more on this..), to enhance its flavour credentials.
Otamot says it is "redefining" tomato sauce by using natural ingredients derived from a range of vegetables to deliver a more nutritious version of this everyday staple (and spelling 'tomato' backwards for those that hadn't noticed..).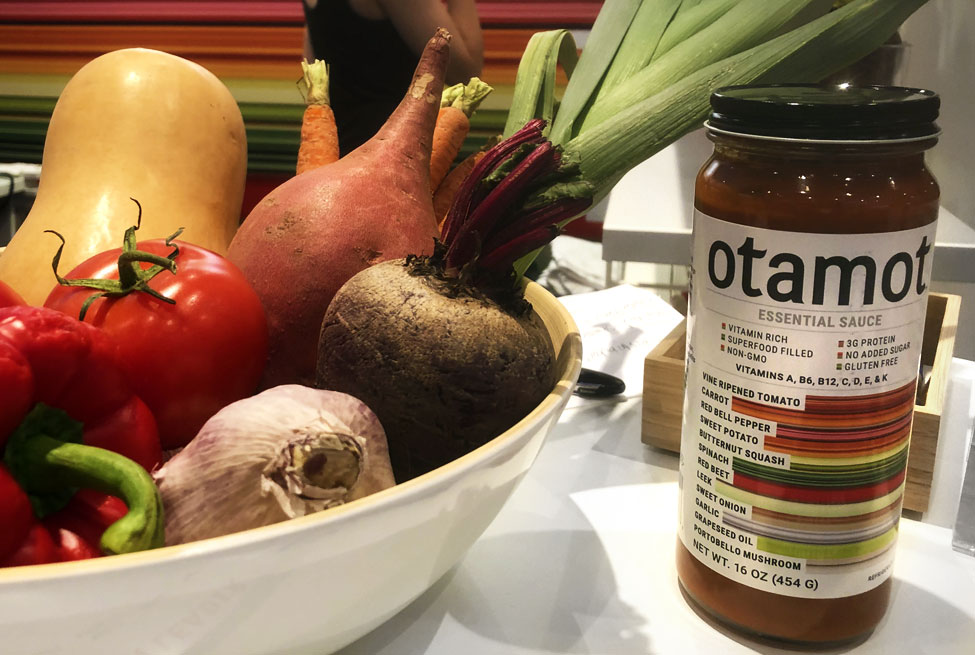 6. New Ways with Coffee
Coffee is increasingly being offered in newer formats that make it ever more convenient – single-serve cans and tetra-paks abounded at the Show.
Munki has an Italian Espresso granola product (all your breakfast needs in a single bowl) whilst Quantum from California has even created a range of energy 'squares' that each contain a single espresso shot, so you can now get your morning coffee kick in solid form.
Twin Engine from Nicaragua had a range of 'travellers' coffee sachet products, so that "good coffee goes with you".
Don Pablo offers a range of "booze-infused" coffees that include bourbon or tawny port in their blends.
7. Salt of the Earth
We'd spotted some Himalayan salt products a few years ago, but their presence was far more evident this year, both as stand-alone seasonings, but also as a named ingredient in savoury products.
And premium salts were also in evidence from as far afield as Switzerland and the Grenadines – purity of sourcing was the common attribute, to deliver a high quality seasoning rich in flavour.
Saltsi has gone a step further, creating a salt-substitute (made from olive leaf) that is delivered via a fine spray to enable even distribution.
8. Monkfruit
Stevia has a new rival – monk fruit is emerging from South-East Asia as an attractive alternative sugar substitute, containing zero sugar, carbohydrates or calories but with none of the digestive side-effects that some stevia users experience
Lakanto from Utah offers a range of monk fruit-based products, including sweeteners, syrups and chocolate bars (that are also dairy and gluten free).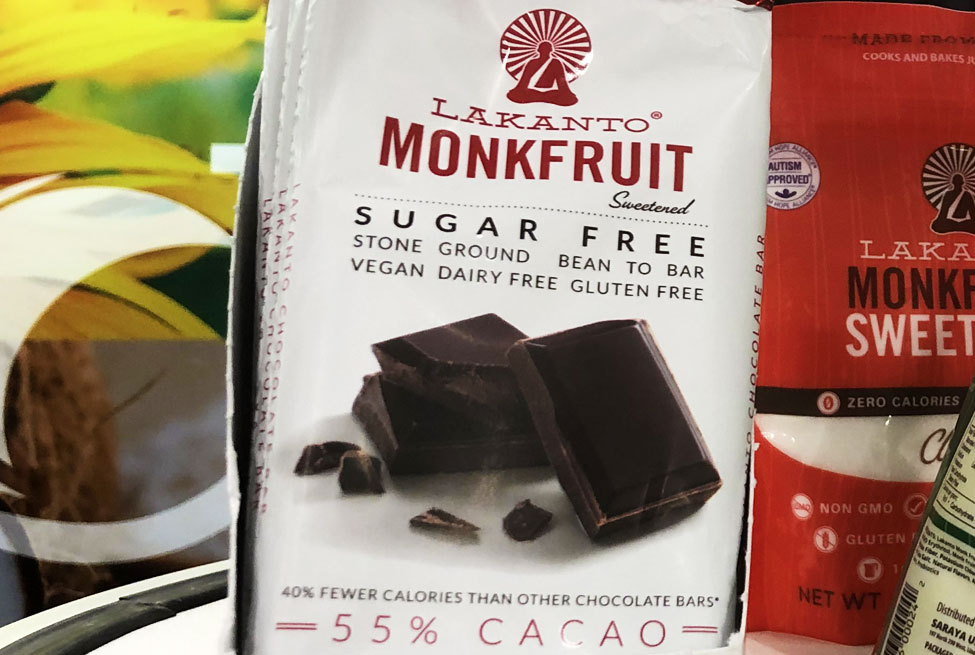 9. Crrrunch!
This year the halls of the Javitts Centre echoed to the sound of crunching – there were a host of snacks, both sweet and savoury, that promoted themselves on their crunchy (or occasionally 'krunchy') texture.
Nutty energy bars and coated nuts, biscuits, breadsticks and crispbreads, seaweed snacks, candies and chocolate products all used a version of 'crunch' in their branding, although the 'Crrrunch Bites' range from Handfulls perhaps says it most obviously.
10. Sweet & Spicy
Hot flavours have been on trend for a while now, so perhaps it's no surprise that products are now emerging that combine spices and heat into traditionally sweet formats. Like Hot Scream from Connecticut, a range of spiced-up ice cream tubs that deliver a real kick. Or Lammes Candies from Texas who are making Habanero Pralines – chewy chocolates with a real kick.
Black Sails has added spicy flavours to coconut water to capture the spirit of the Caribbean (and to off-set the slightly cloying taste that some people find in a coconut water).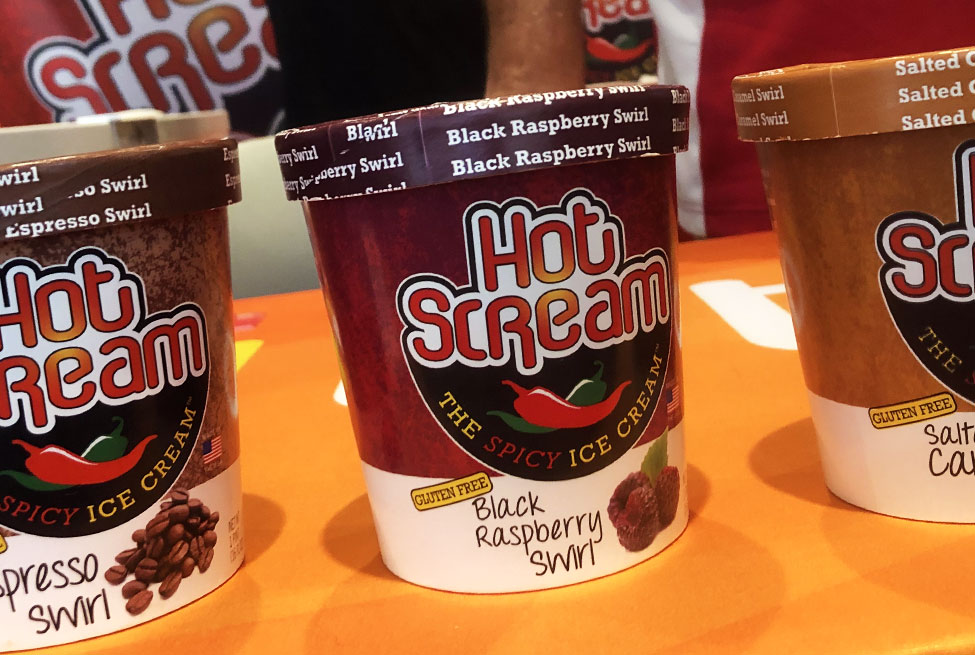 And Five Notable New Things…
Patagonia now offers a range of food products that reflects the ethos of sustainability that runs through this performance-wear and fashion brand. Surprising, but it makes sense – in the founder's words, "we only need a new jacket every few years, but we eat food every day" so it has more impact on the planet.
Let Them Eat Candles offers chocolate candles that can be lit, blown out and eaten – the perfect way to complete a birthday celebration.
Hop Tea is a new iced tea beverage made using hop leaves to deliver the taste of beer (and tea) without the alcohol – the combination of tea and beer sounds like the ideal recipe for a British summer…
Les Trois Petits Cochons from Canada has created a range of Sous Vide Egg Bites – think the inside of a quiche without the pastry – for a quick on-the-go breakfast or snack.
Yolele has brought Fonio, an ancient African grain (similar to couscous) to the market, positioning it, rather grandly, as "the grain at the root of all existence". Some heritage!
Words by Chris Blythe