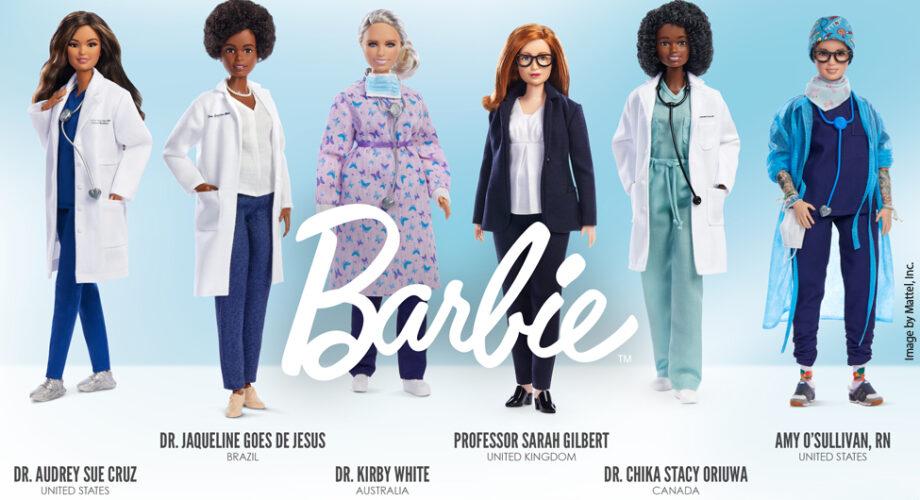 Brand Barbie …but where's Ken?
As certain parts of the world begin to settle from the effects of the pandemic, and we begin to normalise parts of our lives, something caught my eye today in the news and I was in two minds about it all. The British coronavirus vaccine developer Dame Sarah Gilbert now shares a very unique honour with the likes of Beyonce, Marilyn Monroe and Eleanor Roosevelt – a Barbie doll made in her likeness.
My gut instinct was to immediately celebrate Mattel's agile move and think about diversity, the development of STEM subjects and careers across all genders, and just how positive this was for women in science.
To explain further, Dame Sarah Gilbert is a professor at Oxford University and was one of the co-developers of the Oxford/AstraZeneca vaccine. She is one of six women in the fight against COVID-19 who have had new Barbies modelled after them. Mattel are calling this range of Barbie dolls their 'Role Model' range.
Being a global brand Mattel have thought about how the range can be developed globally and as such other dolls in the range include:
Amy O'Sullivan
Who treated the first COVID-19 patient at the Wycoff Hospital in Brooklyn, New York
Audrey Cruz
A frontline doctor in Las Vegas who fought discrimination
Chika Stacy Oriuwa
A Psychiatrist at the University of Toronto who battled racism in healthcare
Jaqueline Goes de Jesus
Who led the sequencing of the genome of a COVID-19 variant in Brazil
Kirby White
An Australian doctor who pioneered a surgical gown that can be washed and reused by frontline workers during the pandemic
Based on all of the above what's not to like about the idea? It's a well-executed brand extension, it feels 'right, right now' and while the aura of Barbie is somewhat at odds with the scientific community it's a fitting tribute to six female heroes in the field.
However, when I read further through the article I came across the following statement:
"Gilbert chose non-profit organization WISE (Women in Science & Engineering), dedicated to inspiring girls to consider a career in STEM, to receive a financial donation from Mattel"
For me it was this part that piqued my interest and triggered a list of probing questions – How much are they getting? Or how little? When? Over what time period? Is the donation tax deductible? Why didn't they do a percentage based on sales? How much goes to each region and or doll sold? Will the sum to be donated pro-rata by Country? (Brazil's population is three times the size of the UK for example)
To me, there doesn't seem to be too much certainty from Mattel as we have no detail as to the size and or scale of the 'financial commitment' it is just a headline for the moment. That seems a missed opportunity against the backdrop of a virus that has forced the world to stand still and seen people battle tirelessly to make things right again.
Our work with Newman's Own always springs to mind when these sorts of things occur. Paul Newman started a business where 'All Profits To Charity' sits at the heart of everything the organisation does. We researched this in recent years with a UK and European audience and the attraction of any brand that can make a watertight promise or be definite about what they are donating provides a much stronger pull for consumers.
And finally… If Mattel are 100% committed to celebrating the heroes of this pandemic then I am looking forward to Chris Whitty, Anthony Faucci and Jonathan Van-Tam battling it out for the role of Ken!
Words by James Acton